History
WEC Energy Group was formed in 2015 but has predecessor companies that carry over a century of history.
1896

The Milwaukee Electric Railway and Light Co. forms to provide electric, steam and interurban rail service. Service area covers more than 12,000 square miles.
William Nelson Cromwell becomes the company's first president.
1902
John I. Beggs becomes president.
1906

Company opens new headquarters — the Public Service Building at 231 W. Michigan St. in Milwaukee.
1911
James Campbell becomes president.
1912
James D. Mortimer becomes president.
1919

Early experiments at the East Wells Power Plant (then called the Oneida Street Plant) in downtown Milwaukee prove that the use of pulverized coal reduces the cost of producing electric power and conserves fuel.
1920
John I. Beggs assumes second term as president.
1921

Lakeside Power Plant, with an operating capacity of 40 megawatts, becomes the world's first plant to burn pulverized coal exclusively.
1925
Sylvester B. Way becomes president.
1928
First cookie book published.
1935

Port Washington Power Plant goes into service with the first of five 80-megawatt units and achieves world record steam plant economy.
1938
Company changes name to Wisconsin Electric Power Co.
1941
Wisconsin Electric purchases the common stocks of Wisconsin Gas & Electric and of Wisconsin Michigan Power Co. from the North American Co.; war prompts the company to participate in government programs to conserve fuel, manpower and materials. Customers are asked to conserve energy.
1945
Gould W. Van Derzee becomes president.
1953

Wisconsin Electric places first 120-megawatt generating unit in service at Oak Creek Power Plant. Seven more units were completed through 1968.
1956
Lawrence F. Seybold becomes president.
1962
Alfred Gruhl becomes president.
1964
Wisconsin Electric joins other utilities to form the Mid-America Interpool Network, the largest power pooling network in the United States.
1969
John G. Quale becomes president.
1970
Wisconsin Electric's 908-megawatt Point Beach Nuclear Plant begins operation and establishes a world-wide reputation for efficiency.
1975
Charles S. McNeer becomes president of Wisconsin Electric.
1978
Wisconsin Natural Gas Co., a Racine-based subsidiary of Wisconsin Electric, takes over Wisconsin Michigan gas operations.
1980

Wisconsin Electric places first 580-megawatt unit at Pleasant Prairie Power Plant into service. A second 580-megawatt unit is put in service in 1985.
1987
Wisconsin Electric restructures, establishing Wisconsin Energy Corp., and several new subsidiaries including Wispark, Wisvest and Witech.
Charles S. McNeer becomes president, chairman and chief executive officer of Wisconsin Energy.
1991
Richard A. Abdoo becomes chairman, president and chief executive officer of Wisconsin Energy.
1994
Wisconsin Energy buys Lake Geneva-based Wisconsin Southern Gas Co. and merges it into Wisconsin Natural.
1996
Wisconsin Natural merges with Wisconsin Electric.
1998

Wisconsin Energy buys ESELCO, parent company of Edison Sault Electric, based in Sault Ste. Marie, Michigan.
1999
Wisconsin Electric adds its one-millionth electric customer.
2000

WICOR, a Milwaukee-based holding company of Wisconsin Gas, becomes part of Wisconsin Energy, creating the largest electric and natural gas provider in Wisconsin.
Wisconsin Energy announces its 10-year growth strategy investing $3 billion to build at least five new power plants with a total capacity of 2,800 megawatts; investing $1.3 billion to upgrade existing power plants; and investing $2.7 billion in the distribution system.
2002

Wisconsin Electric-Wisconsin Gas changes its name to We Energies. The new name brings together the best attributes of two strong organizations, Wisconsin Electric and Wisconsin Gas and represents a single, forward-thinking organization with a re-energized focus on customer service.
2003
Wisconsin Energy receives approval from the Public Service Commission of Wisconsin to begin construction on two natural-gas-fueled and two coal-fueled generating plants as part of the company's Power the Future plan.
2004
Wisconsin Energy announces the sale of WICOR Industries, a manufacturer of water systems, filtration and pool equipment for $850 million, continuing the company's strategy to divest noncore businesses.
Gale E. Klappa becomes chairman and chief executive officer of Wisconsin Energy. He had been named president in December 2003.
2005

The first of two 545-megawatt natural gas-fueled units begins commercial operation at the Port Washington Generating Station.
2006
We Energies sets an all-time demand record for electricity — 6,505 megawatts on July 31.
Unit 1 at the company's Pleasant Prairie Power Plant sets a new site record with 517 days of continuous operation.
2007
Wisconsin Energy completes the sale of Point Beach Nuclear Plant to FPL Energy, for approximately $924 million.
2008

The Blue Sky Green Field Wind Energy Center begins commercial operation. The 10,600-acre site has 88 turbines and a generating capacity of 145 megawatts.
The second 545-megawatt natural gas-fueled unit begins commercial operation at the Port Washington Generating Station. The $669 million project is finished on time and on budget.
2009
We Energies announces plans to construct a 50-megawatt biomass-fueled power plant at a paper mill site owned and operated by Domtar Corp. in northern Wisconsin.
2010
The first of two 615-megawatt coal-fueled units at the Oak Creek expansion site attains commercial operation.
Wisconsin Energy completes the sale of Edison Sault Electric Co. to Cloverland Electric Cooperative of Dafter, Michigan, for $61.5 million.
2011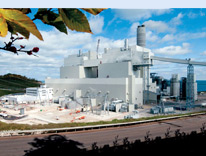 The second of two 615-megawatt coal-fueled units at the company's Oak Creek expansion site attains commercial operation on Jan. 12.
Glacier Hills Wind Park begins operating 90 turbines in the towns of Randolph and Scott in Wisconsin.
2012
J.D. Power and Associates ranked We Energies the number one large electric utility in the Midwest for satisfaction among business customers.
We Energies started a new construction project at its Twin Falls hydroelectric plant on the Menominee River near Iron Mountain, Michigan, at an estimated cost near $65 million.
2013
Rothschild Biomass Cogeneration Plant begins commercial operation, adding 50 megawatts of renewable energy to We Energies' generation portfolio.
2015

Wisconsin Energy acquires Integrys Energy Group, forming WEC Energy Group.
2016
WEC Energy Group sells Trillium CNG, a compressed natural gas fueling service business acquired with Integrys Energy Group, to Love's Travel Stops.
2017
Acquired Bluewater Gas Storage in Michigan to provide about one-third of storage needs for WEC Energy Group's natural gas distribution companies in Wisconsin.