Community Support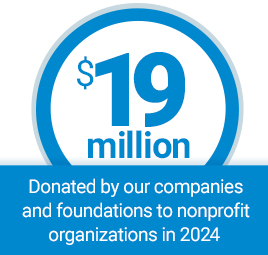 Our energy companies support nonprofit, tax-exempt organizations in communities located in areas our companies serve. Our focus areas are:
Community and neighborhood development

Arts and culture

Health and human services

Education

Environment
Our employees are active in their communities, serving on nonprofit boards and volunteering their time. Our companies and associated business resource groups promote a range of volunteer opportunities for current and retired employees. They also participate in workplace giving campaigns for United Way and other organizations. Our Matching Gifts programs further encourage charitable giving by matching eligible employee donations to nonprofit organizations in our communities.
We Energies and Wisconsin Public Service (WPS) each operate foundations. The We Energies Foundation supports areas served by We Energies and Upper Michigan Energy Resources, and the WPS Foundation supports areas served by WPS, Minnesota Energy Resources, Michigan Gas Utilities and Upper Michigan Energy Resources. Peoples Gas and North Shore Gas have charitable contribution programs that support nonprofit organizations in the same manner.
Goals
Pursue a sustained, consistent approach to funding within the focus areas, better enabling the organizations to achieve lasting results.

Foster mutually beneficial relationships between our subsidiaries and community organizations.
Foundations and charitable giving